Pilgrimage 33 holy sites around Iwami Ginzan Silver mine
Jump to navigation
Jump to search
About Pilgrimage 33 holy sites around Iwami Ginzan Silver mine
[
edit
]
The origin of Pilgrimage 33 Temples around Iwami Ginzan Silver mine is recorded in "Kanchozuihitsu" (historical records and stories) in Hanecho, Ohda city written between 1658 and 1846.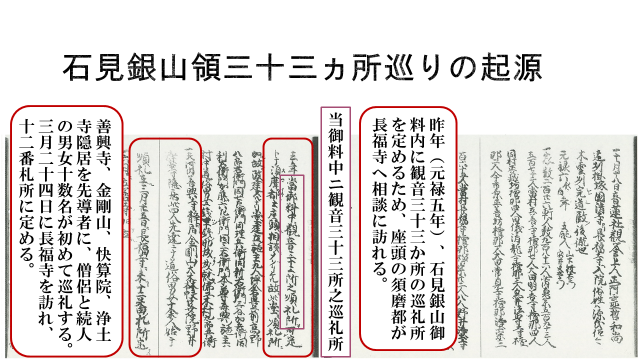 大田市文化財 書 S47.3.8 紙本墨書観聴随筆 4巻 波根町 個人 万治元年(1658)〜弘化3年(1846) 天領下記録
The Manuscript "Sekishuginzan Chikasato Junreiengi"( origin of Pilgrimage around Sekishuginzan Silver mine) written in 1693 was found in an old family storehouse in Sakuraecho, Gohtsu city during Gohnokawa river flood cleanup in 2018.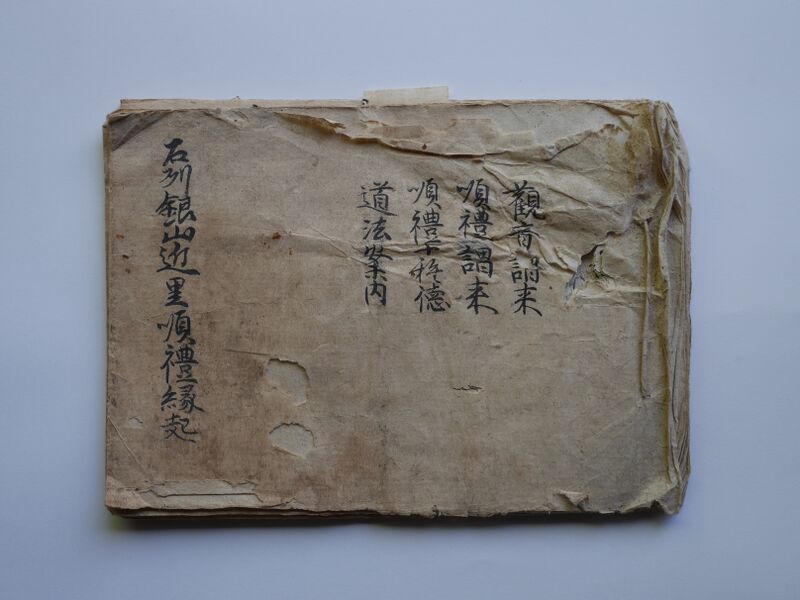 Visiting and researching each site according to the manuscript revived Pilgrimages path for 33 Temples and Kannon Bodhisattvas around Iwami Ginzan Silver mine, and came out as this website. Two-third of the temples remain their buildings, and one-third of them are ruin or maintained as hermitages by devoted villagers.
We hope that you will experience glimpses of people's beliefs, wishes for their wellbeing and leisure in 400 years ago while visiting these 33 Temples.
‎
Let's go to Iwami Silvermine Museum before going to Pilgrimage 33 holy sites around Iwami Ginzan Silver mine.
There are the maps and some information in Iwami Silvermine Museum.

Pilgrimage Experience
[
edit
]


Today, we will relive the pilgrimage through the eyes of local students. 
We selected 7 temples to introduce so that you can experience nature and temples 
around Iwami silver mine.
By University of Shimane, Faculty of International Relations International Communication Course

About the 33 Temples
[
edit
]
| No | Honorific mountain | Name | image | Affilliation | Address | Kannnon | Seal stamp | YouTube |
| --- | --- | --- | --- | --- | --- | --- | --- | --- |
| 1 | Mt.Ginpozan | Seisuiji Temple | | Shingon | ニ 95 Ohmoricho, Ohdashi | 〇 | 〇 | 〇 |
| 2 | Mt.Iwayasan | Jinguji Temple | | Shingon | Ohmoricho, Ohdashi | × | | |
| 3 | Mt.Gyokuhozan | Ryushoji Temple | | Soto | Ohmoricho, Ohdashi | × | | |
| 4 | Mt.Sekijozan | Kanzeonji Temple | | Shingon | イ1383 Ohmoricho, Ohdashi | 〇 | 〇 | 〇 |
| 5 | Mt.Sokuozan | Shogenji Temple | | Jodo | イ430-1 Ohmoricho, Ohdashi | × | 〇 | |
| 6 | Mt.Hukuozan | Zenkoji Temple | | Soto | 19Amagochi, Nimacho, Ohdashi | 〇 | | |
| 7 | Mt.Toraisan | Hateiji Temple | | Shingon | 1315Takuno, Nimacho, Ohdashi | 〇 | 〇 | |
| 8 | Mt.Kongosen | Anrakuji Temple | | Shingon | 1558 Sizumacho, Ohdashi | 〇 | 〇 | 〇 |
| 9 | Mt.Yaosan | Jinguji Temple | | Shingon | c/oMononobe shrine,1545 Kawai, Kawaicho, Ohdashi | × | | |
| 10 | Mt.Tennozan | Kenkoji Temple | | Soto | 1196 Yoshinaga, Kawaicho, Ohdashi | × | | |
| 11 | Mt.Myokozan | Enkoji Temple | | Soto | 1369 Sasuka, Kutecho, Ohdashi | × | | |
| 12 | Mt.Juchisan | Chohukuji Temple | | Jodo | 706 Hanecho, Ohdashi | 〇 | 〇 | |
| 13 | Mt.Kotokuzan | Shorinji Temple | | Soto | 331Yamanaka, Tomiyamacho, Ohdashi | × | | |
| 14 | Mt.Reichinzan | Enjoji Temple | | Tendai | イ420 Nojiro, Sanbecho Ohdashi | 〇 | 〇 | 〇 |
| 15 | Mt.Kiunsan | Garyuin Temple | | Soto | 2168 Ikeda,Sanbecho,Ohdashi(Info available at Suhukuji Temple) | 〇 | | |
| 16 | Mt.Myokosan | Daijoji Temple | | Soto | ロ415 Shigaku, Sanbecho, Ohdashi | 〇 | | |
| 17 | Mt.Kanrosan | Myoyuji Temple | | Rinzai | 460 Hamahara, Misatocho, Ohchigun | 〇 | | |
| 18 | Mt.Shofuzan | Enkoji Temple | | Soto | 439 Kasubuchi, Misatocho, Ohchigun | 〇 | | |
| 19 | Mt.Zenyozan | Anrakuji Temple | | Soto | 343 Uchida, Misatocho, Ohchigun(No actual building) | × | | |
| 20 | Mt.Nyoisan | Enpukuji Temple | | Shingon | 459 Soshikicho, Ohdashi | 〇 | 〇 | |
| 21 | Mt.Rinryuzan | Senganji Temple | | Soto | 295 Tando, Kawamotomachi, Ohchigun | 〇 | 〇 | |
| 22 | Mt.Hoshozan | Kannamiji Temple | | Shingon | 3842-1Sakamoto, Sakuraecho, Gohtsushi | × | 〇 | 〇 |
| 23 | Mt.Hochozan | Chokoji Temple | | Soto | 784Yudani, Kawamotomachi, Ohchigun | 〇 | 〇 | 〇 |
| 24 | Mt.Sinryuzan | Daikoin Temple | | Soto | 1075Niiya, Ohshirocho, Ohdashi | 〇 | | |
| 25 | Mt.Sangakuzan | Jibuji Temple | | Shingon | Ogimura, Yunotsucho, Ohdashi | 〇 | | |
| 26 | Mt.Kenpozan | Kongoin Temple | | Shingon | イ758 Yunotsucho, Ohdashi | 〇 | 〇 | |
| 27 | Mt.Kongosan | Ryogonji Temple | | Shingon | ハ67 Hukumitsu, Yunotsucho, Ohdashi | 〇 | 〇 | |
| 28 | Mt.Kumanosan | Ganryuji Temple | | Soto | 178-3 Hongo, Hazumicho, Gohtsushi | 〇 | 〇 | 〇 |
| 29 | Mt.Mantokusan | Fukujoji Temple | | Soto | 251Hongo, Hazumicho, Gohtsushi | 〇 | | |
| 30 | Mt.Nanyozan | Jionji Temple | | Rinzai | 1174 Tsuchicho, Gohtsushi | 〇 | 〇 | 〇 |
| 31 | Mt.Bannanzan | Seitaiji Temple | | Rinzai | 410 Ichimura, Matsukawacho, Gohtsushi | 〇 | 〇 | |
| 32 | Mt.Rurisan | Hikasaji Temple | | Soto | 1643 Tanijugo, Sakuraecho, Gohtsushi | 〇 | | 〇 |
| 33 | Mt.Kyokozan | Takanoji Temple | | Shingon | ハ480 Ida, Yunotsucho, Ohdashi | 〇 | 〇 | 〇 |
Download
[
edit
]
File:En iwamiginzan33map.pdf(3MB)
Tours and Events
[
edit
]
Monitor tour in 2022

Archives
[
edit
]
Lectures
[
edit
]
‎
講師:仲野義文氏(石見銀山資料館館長) とき:2021年5月16日 ところ:大田市大森町「熊谷家住宅」
中世社会の宗教事情と寺院-寺社~近世の三十三ヵ所巡りを手がかりに~ 講師:井上寛司氏 とき:2021年11月28日 ところ:大田市あすてらすホール
Information and further reading
[
edit
]
Contact
[
edit
]
銀山領33ヵ寺巡る会
電子メール:iwamiginzan33@sakurae-komonjo.sakura.ne.jp
Facebook:https://www.facebook.com/sakuraekomonjo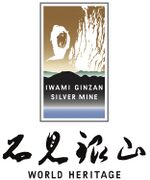 「公益信託大成建設自然・歴史環境基金」及び「特定非営利活動法人石見銀山協働会議」の助成を受けてこのページを作成しています.